A&O Studios Print Collections
physical photographs you can see and touch take you back to those most precious moments
A&O Studios Print Collections
physical photographs you can see and touch take you back to those most precious moments
A&O Studios Print Collections
physical photographs you can see and touch take you back to those most precious moments
Preserve Your Memories
Having your photos in print makes all the difference in how frequently you take time to remember and enjoy your happiest memories.
A beautifully curated and designed album walks you through your emotions, excitement, and recalls memories in a way that scrolling on a screen simply can't.
Select your Collection, then decide how you want to customize your album, wall art, and keepsake box...we'll take care of the rest!

Once you submit your order request below, we'll immediately get to work designing your luxe album and creating the rest of your order!


With hand-bound vegan leather, ultra-thick pages (0.68mm), and professional lustre finish, your album will feel and look like an elegant, designer product...because it is.
Size Selection

8x8 Collection ONE
the perfect size for a bookshelf. it's square, so you can easily fit portrait and landscape orientation photos throughout, but this smaller size doesn't give that wow effect for your favorite images.
8x12 Collection TWO
like the typical ratio of a book because it's taller than it is wide, which feels like you're flipping through your personal book of life. portrait photos stand out on full pages, while landscape images are usually stacked vertically.
12x12 Collection THREE
our largest and most luxurious option. in coffee-table-book size, you'll want to keep this nearly life size album on display somewhere special at home. your favorite images across two-page spreads will illicit an emotional reaction to seeing your precious moments represented like true art.
Album Customization
select your vegan leather color, custom cover text, and additional pages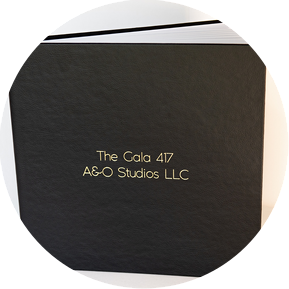 cover text
up to three lines of text

18 characters per line (including spaces)
A&O recommends:
Name + Name
MM.DD.YYYY
add pages
$10 per additional page (front & back)

up to 4 images per page, depending on design
page additions can be made upfront and/or during proofing
What is the process from here?
Complete the form below, telling us all of your customization selections. We'll email you within 48 hours with an invoice and confirming any additional details we need.
Can I add images to my album?
Yes! You can add up to 10 pages to any album, priced at $10 each. You can add pages now, or after you've received your proof.
What is the proofing process?
Once your album is designed and your other print items are mocked up, we will email PDF proofs of all items for your review. You'll have 3 days to let us know of any additions or changes, then we order!
Can we place a la carte orders?
We do not fulfill a la carte orders at this time. Because we so carefully curate and design every order, we feel strongly that offering full collections provide the best method to display and love your beautiful photographs for years to come.
Start Your Order
Complete the form below with the details of your Collection selection and customizations.


We'll follow up within 48 hours with additional details and your invoice.
Payment is due within two weeks and must be submitted prior to proofing.


We'll review your gallery and start designing your custom album and prints immediately!